Digimap for Schools provides a range of global, contemporary and historic digital maps that assist with teaching and learning all types of Geography – as well as numeracy, literacy, history, outdoor learning and so much more.
Accompanied by free learning resources – designed by teachers and curricula experts, Digimap for Schools offers a fabulous cross-curricula resource that can be used in a range of activities and disciplines, to engage learners and support their attainment, while making learning enjoyable.
---
What you can teach
Locational Knowledge
Use Digimap to extend learners locational knowledge and deepen their spatial awareness of the world`s countries. Use our maps of the world to teach about Africa, Russia, Asia, China, India and the Middle East.

Teach learners about physical and human characteristics of geography as well as countries and major cities.
Place Knowledge
Use Digimap to teach your learners how to understand geographical similarities and links between places of any region in the world.

Teachers and learners can upload photos, graphs and charts, add labels, markers, lines, areas and add them to the maps, complementing them with text and much more e.g. showing land use classification.

Upload their own data files – either postcode data they've captured themselves or open data containing a geospatial reference.

Buffer points and lines for analysing spheres of influence, catchment areas, flooding, noise pollution.

Investigate change over time within Great Britain by fading in between historical mapping from the 1890s, post-war mapping from the 1950s, aerial imagery and up to date topographical mapping.

Compare a large global crowd-sourced data set with a traditional cartographic product.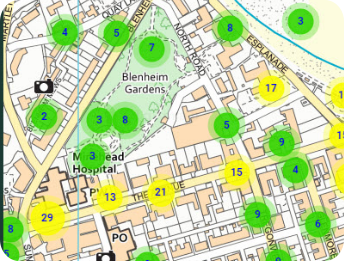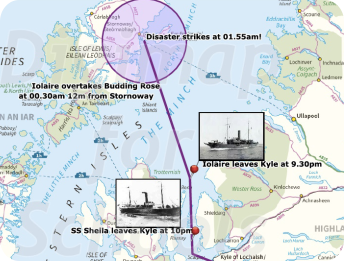 Human and physical geography
Add your own materials to the maps in Digimap for Schools.

Use our built-in image library to teach geological timescales and plate tectonics; add in data about rocks, weathering and soils.

Add climate information to the maps to support your teaching of the environment. You can also use the existing climate overlays or tell us what you need and we may be able to add these for you as new overlays. Add materials of your choice using the upload function to show examples of human geography relating to population and urbanisation; international development and economic activity, city, town, village, factory, farm, house, office, port, harbour and shops.
Geographical skills and fieldwork
Use Digimap`s global maps to build on learners' knowledge of maps and atlases. Apply and develop this knowledge in the classroom or in the field with our free learning resources.

Teach learners to interpret Ordnance Survey maps to deliver all attainment targets in the curriculum.

Digimap`s fantastic aerial photographs help learners plan perspectives and to recognise landmarks and basic human and physical features.

Print a map of your choice, for your needs, to support field work, upload data in the classroom to overlay on a map on the screen.

Annotate your maps to tell a story by adding pictures or graphs to support creative, engaging and interactive teaching and learning.
---
More than just maps
Use Digimap for Schools for cross curriculum learning. Use our learning resources or get in touch for advice on how to teach numeracy, literacy, history, outdoor learning and so much more.
---
One login, accessible from anywhere on any supported device. Unlimited use at school and home for students, teachers and parents.
Get started